Christin Chan
MBA, Dietetics Undergraduate
Kansas State University's Distance Dietetics Program
Manhattan, KS
Christin Chan
Tell us yourself, your background and education.
My full name is Pui Lun Christin Chan. I was born in Hong Kong and lived there for my first seven years before I immigrated to the U.S. I was raised in Las Vegas, NV.
I am a non-traditional college student, looking for a career shift to become a Registered Dietitian (RD) after spending several years in another field. I have a BA in English Literature and Chinese from the University of Nevada, Las Vegas and a MBA with the University of Wisconsin, Whitewater. While working on my MBA, I studied abroad in the summer of 2007 in Madrid, Spain and have completed a travel study course in International Marketing in India during the spring of 2008. I am currently working on a BS in Dietetics at Kansas State University's Distance Dietetics program.
I started my career as a buyer/product developer with one of the largest online footwear retailers, concentrating in private label footwear product development and branding. I have also created my own e-commerce fashion business and spent the last two years living abroad in Hong Kong, working as a Product Manager in Technology for a Legal and Compliance Consulting firm and teaching yoga on my days off.
How did you become interested in nutrition and dietetics?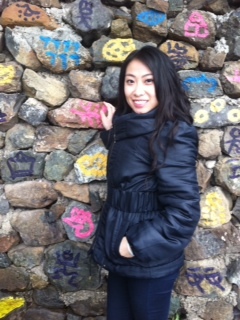 I have played with the idea of becoming an RD numerous of times for the past few years. My interest in studying dietetics started during college when I gained over 30lbs in the matter of 6 months as I was too busy taking a full load of college courses, working full-time and following an extremely unhealthy diet. After I took matters in my own hands by regularly exercising and watching what I ate, I was able to lose the weight within 1 year. During that time I also took up running as a hobby. I participated in 5ks, 10ks, and eventually worked up to completing my first half marathon. During training I always tried to find ways to eat effectively and healthfully so that I could maintain my performance and energy level.
My travels throughout India and different parts of China also promoted my interest in nutrition and dietetics. The food system in Asia is certainly not up to the U.S. Standards and I was in a bit of a culture shock when I noticed how foods were being handled and how easily one can get sick from eating contaminated food. While I was living in Hong Kong it was extremely difficult to maintain a healthy diet due to long work hours and condensed living conditions. Living in a small studio (less than 100 sq. ft.), I had no kitchen and no choice but to eat out every day. Although I tried to be selective and picked places with healthier options, I prefer cooking my own food because at least I know what goes into the food. I was living in the most condensed local area of Hong Kong, so if I wanted to buy organic or healthier options, I would have to travel to Hong Kong Island where most of the expatriates were living. In addition to the long work hours and unhealthy diet, I was constantly sick, frequently from food poisoning. This made me realize how important a healthy lifestyle is to live better and feel good on both a physical and emotional level. This is why I decided to go back to school to become an RD.
You have traveled extensively and studied abroad. How would those experiences relate to a profession in nutrition and dietetics?
My travels throughout Europe and Asia were eye-openers for me to see how different the meaning of nutrition can be to people in various countries. These experiences relate to the profession of nutrition and dietetics because you will eventually encounter patients from different cultures. So, it is essential to have an understanding of their diet habits and how their culture can intertwine with their choices of foods. In addition, being exposed to different cultures allowed me to learn and experience multiple food options firsthand. I can use the knowledge I obtained to connect with patients on a more interpersonal level that can help them make healthier diet choices.
You enjoy physical activity and hold certifications in yoga and exercise training. How might you use these interests and skills to benefit a career in nutrition?
I am an avid runner and love being active such as cycling, hiking, yoga, Pilates, TRX, etc. I am a 200-hr certified yoga instructor, Certified Personal Trainer with NASM, and a certified prenatal/postnatal yoga teacher. I have also attended workshops in restorative yoga and yoga therapy. I think these interests and skills can benefit a career in nutrition because both exercise and eating a healthy diet are connected with each other and work hand in hand. Being healthy is a lifestyle change and it is important to be able to maintain it on all levels. I think these skills can certainly complement an RD's expertise in food so that a patient can fully achieve a well-rounded health plan.
What are your professional goals? Once you become an RD, what kind of work do you want to do?
My main interests lie in medical nutrition therapy, clinical nutrition, and eating disorders. I would like to gain more experience and knowledge on the different types of treatments in these areas for both adult and children. Once I become an RD, I would like to work in an in-patient setting and help those with eating problems use nutrition as a form of therapy to prevent future medical problems. In the long run, I plan to study culinary art so that I can use my nutrition and culinary expertise along with my exercise and business background to operate my own private practice. I am also very passionate about international nutrition and I hope to assist in a nutrition-related project to benefit women and children in developing countries.
Is there anything else you would like to share with other students?
Never believe that you are too old to go back to school if you are unhappy with your current career. I think it takes a lot of hard work, dedication, and faith to achieve your goals. You only have one life to live so you might as well make it the best one. So, be bold and passionate. Take the leap of faith and do what you love!