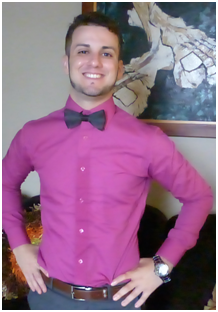 Heriberto Cruz Guzmán
Dietetic Intern
University of Puerto Rico
Medical Sciences Campus
San Juan, Puerto Rico
Heriberto Cruz Guzmán
Tell us yourself, education, your background, and your current interests.
I am currently a Dietetic Intern at the University of Puerto Rico Medical Sciences Campus. I graduated this past May from the University of Puerto Rico Rio Piedras Campus, having completed my Bachelor's in Nutrition and Dietetics. I have lived in Puerto Rico my whole 23 years of existence, although I have traveled for academic purposes. In 2011 I took part in a summer internship in Australia (talk about a change in scenery), and I have also been to FNCE and Minorities in Agriculture, Related Resources and Natural Sciences conventions.
My interests include reading anything related to nutrition I can get my hands on, football, soccer, going to the gym, traveling, cooking and Twitter. I am a firm believer that social media put to the adequate use, can be very powerful. I also took social sciences and literature classes outside of my curriculum to expand my knowledge and hope to one day write about our wonderful profession. Inside the field I am enthralled by how to optimize athletic performance with nutrition, and also the ins and outs of hydration, which can sometimes mean the difference between winning and losing.
How did you become interested in nutrition?
I actually started out as a biology undergrad, but some chronic diseases started to take a toll on my family and they all seemed to be linked in one way or another to what they were eating. I still remember to this day walking into Dr. Pinto's office, who at the time explained all the beautiful things nutrition and dietetics can be, and just thinking to myself I want that feeling of excitement, that feeling of knowing that what we are doing is important. I changed majors, and fell in love, never looking back.
You have done a summer internship in Australia. Tell us about that experience and something you learned.
It was a great experience; I encourage every undergrad to participate in an exchange or internship program at some point. Seeing a country so far away from home, and getting to know how different their customs and food is, was amazing. They eat kangaroo, and I'll be honest it tastes delicious, but it doesn't appear on the substitute list, that's for sure. It taught me the importance of knowing your audience, and recognizing what their customs are, so as a dietitian you understand what to work with. Oh, and don't get me started on Vegemite (it's a type of a nutritional yeast), it's something you either learn how to eat or you won't be eating it at all.
What other experiences have you had in nutrition?
During my last year as an undergrad, with the help of two colleagues of mine, I became the proud founder of a Nutrition Journal Club for my university Nutrition and Dietetics program. The professors as well as the program director were so accepting and helpful during this time, and it recently got accredited as an official student organization in the university. It was a great experience to bring speakers and the latest research directly to the students. Currently I am serving as the student president of my dietetic internship.
What are your professional goals? Once you become a registered dietitian, what kind of work do you want to do?
In the not so distant future I hope to become a Registered Dietitian and continue to work towards developing into a Board Certified Specialist in Sports Dietetics (CSSD). I also enjoy the challenge of working with renal or transplant patients, because of the complexity, but sports nutrition has always been a passion of mine. I would love to work with a sports team in the future, helping athletes become all they can be with the power of nutrition.
Is there anything else you would like to share with other students?
Pursue opportunities and involve yourself with everything you can gain knowledge or experience from. I would like to state that one can never be complacent, always strive for more. I truly believe that if you work harder than everybody else, it will show. This is an ever evolving field and we must not only try to keep up, but think ahead as well. No dream is too big and no task is too monumental if you have the right mind set and surround yourself with the right tools for the job.