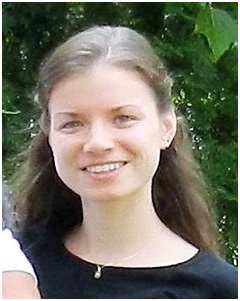 Jillian Rohlfs
Undergraduate, Nutrition and Dietetics
Rowan University
Glassboro, New Jersey
Jillian Rohlfs
Tell us about yourself, your education, background, and current interests.
I am a student at Rowan University of New Jersey studying nutrition and specializing in dietetics. I am in the second year of the program at Rowan and plan to graduate with my BS in Nutrition and Dietetics in spring 2019. I am fortunate that I will be enrolled in a (soon-to-be) accelerated Coordinated Program that allows me to earn my MS degree in Nutrition while completing my supervised practice.
How did you become interested in nutrition and sports nutrition?
I am always looking for different ways to get involved in the field of sports nutrition. Specifically, I am interested in how a plant-based diet can fuel a variety of exercise and sports. I swam competitively for 10 years before becoming a competitive runner, so I am especially interested in endurance sports. Although I do not play sports for my University, I compete in local road races. I am always working towards improving my performance and my nutrition and staying competitive among other age-group athletes.
You have been involved in developing a nutrition program for Rowan athletes. Tell us about that experience and something you learned.
Fortunately, Rowan University has a strong exercise science program and there are many opportunities for me to get involved with the Rowan athletes. For example, over the summer I reached out to a few professors on campus about my interest in sports nutrition and we are now in the process of developing a nutrition program for the Rowan athletes. I have been working closely with my professors to not only develop a sports nutrition program on campus, but also to conduct research in the future. While the program and the potential research opportunities are still very new, it is exciting to have helped light the spark that will ultimately drive the development of these two valuable experiences.
What other experiences have you had in nutrition?
Because I am only in my third semester of the program, my experiences in nutrition are limited. While working to help develop the nutrition program for athletes is the project that I am most passionate about, I am also the treasurer for the Nutrition Care Club. The Nutrition Care Club is a club that I and a small group of other dietetics students worked hard to organize for the past couple of semesters. It has finally become conditionally chartered and we are constantly working on developing professional development opportunities for the dietetics students at Rowan as well as providing activities and information to the community.
What are your professional goals? Once you become a registered dietitian, what kind of work do you want to do?
My ultimate goal is to become a Registered Dietitian, but more specifically a Board Certified Specialist in Sports Dietetics (CSSD). I would love to work with athletes to help fuel their performance. There is a special place in my heart for running so I would truly enjoy working with runners to help fuel their endurance endeavors. While my main goal is to become a Registered Dietitian, I'd like to become a running coach in the future! Being able to educate and support athletes is what drives my academic work every day.
Is there anything else you would like to share with other students?
My main advice to other students is to step outside of your comfort zone! Ever since starting as a student in this program, I have stepped out of my comfort zone every day. All of the opportunities that have come my way are because I have put myself out there, communicated my goals, and worked hard!