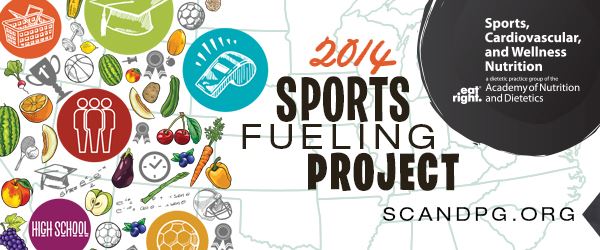 Fall 2014

| Birmingham, AL | Boston, MA | Chicago, IL |

| Cincinnati, OH | Denver, CO | Houston, TX |

| Seattle, WA | Fairfax, VA | Sacramento, CA |

About

RDNs will consult with local high school athletic programs to present sports fueling topics to teams, from approximately mid-August to mid-December (dates vary). RDNs will receive valuable in-field sports nutrition experience and log hours towards eligibility for Board Certification in Sports Dietetics (refer to CDR requirements for CSSD eligibility). RDNs will be asked to commit 3 hours per week to present topics to teams, hold 'office hours' and work with coaching staff. Individual schedules will be established on a case-by-case basis. This program is completed at the end of the fall season.

Project Goals and Benefits

Gain sports nutrition experience working with athletes and coaching staff
Log a minimum of 30 hours towards CSSD certification
Earn continuing education credits
Develop contacts in the local athletic community
Learn through mentoring from veteran CSSDs
Create job opportunities while promoting the value of the RDN profession
Receive valuable sports nutrition resources
Receive a $100 American Express card to cover misc. expenses

SCAN has selected a committee of experienced CSSDs to mentor those RDs accepted into the Sports Fueling Project. CLICK HERE for more information.

Program Participants

The Fall 2014 Sports Fueling Project is now closed. Thank you for your participation.

Why Apply?

"Being a new dietitian, this program has not just been a great learning experience for me, but I also gained more confidence in presenting to teams on sports nutrition topics. My goal is to be a Sports Dietitian and this has been a great experience to get me started in that direction."

---

"I feel extraordinarily lucky to have been a part of the pilot round! The school appreciated my efforts so much that they expanded my reach so that I impacted almost every student there (4,000)!"

---

"It has been a great opportunity to work with young student athletes, and rewarding to see the athletes add that knowledge into their daily routine."

---

"Interaction with the mentors provided exceptional feedback and support. Likewise, the educational materials provided were incredibly valuable in expanding my knowledge of sports nutrition."

---

"I work very well with the Athletic Training Team. They have asked me several times to expand and extend my time with them as they viewed my support of their athletes/coaches as beneficial."