Athlete in the Arts Nutrition Fact Sheets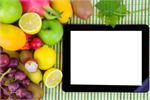 The SD-USA subunit of SCAN has developed a series of fact sheets tailored to performing artists because the physical demands and mental and psychological pressures of performing artist-athletes are similar to those of sports athletes. These resources have been developed in conjunction with Athletes in the Arts, a young and emerging organization formed to address the health, wellness, and performance needs of performing artist-athletes. The Fact Sheets are created by SCAN Registered Dietitian Nutritionists (RDNs) and provide timely, accurate, applied information and guidance.
Fact sheets are FREE to members and $3.95 each to non-members. Please note that, once purchased*, the Fact Sheets may be downloaded, printed and copied for education purposes only. Reproduction for sales purposes is not authorized.
*Fact sheets are non-refundable.
Resources Available for Purchase (FREE for Members)
CLICK HERE to download and review the Terms of Use Agreement.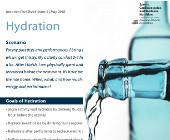 Fact Sheets – Promote the CSSD
Board Certified as a Specialist in Sports Dietetics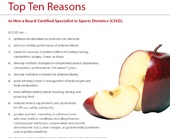 Top 10 Reasons to Consult a CSSD