Become A SCAN Sponsor!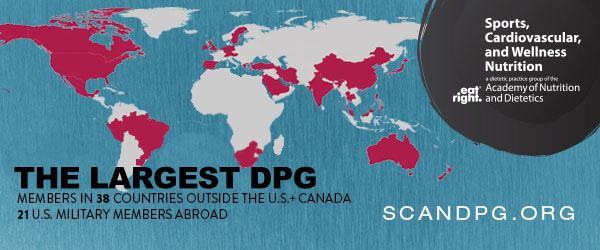 Become a SCAN Sponsor and enhance your company's visibility and impact.
SCAN has nearly 7,000 members, making it the LARGEST dietetic practice group of the Academy of Nutrition and Dietetics.
Our members are primarily Registered Dietitian Nutritionists (RDN's) with nutrition expertise in the areas of: Sports, Physical activity, Cardiovascular health, Wellness, Disordered eating and eating disorders 

SCAN members are highly engaged with our sponsors' messages, products and services, and may contact 200 to 20,000 customers each year through a wide rate of settings, such as:
Sports Teams and Athletes of all ages & caliber
University & Academics & Student Wellness
Weight Management Programs
Worksite and Community Wellness Programs
Cardiac & Pulmonary Rehab
Eating Disorder Prevention and Treatment
SCAN has over 33,000 followers through its active presence in all forms of social media.
SCAN Sponsor Opportunities Include:
Exhibiting and presenting at our yearly symposium, now in its 34th year
Exhibiting and presenting at FNCE, now in its 100th year
Educating our members in the Pulse, our quarterly peer-reviewed publication, and webinars.
Direct targeted advertising to all 7000 members through a variety of social media and electronically delivered content, including e-blasts, SCAN Connection, our member newsletter, and Pulse.
Engage with SCAN to develop an individualized plan to help you exceed your outreach goals.
For more information and a sponsorship prospectus for review, please email development@scandpg.org or call our Development Director, Ingrid Skoog MS, RD, CSSD, at 541-852-1067.
We look forward to hearing from you soon!

Current Sponsors