Highights
Attend the most comprehensive sports cardiovascular, wellness, and eating disorder symposium for RDNs available, and learn from top-tier speakers.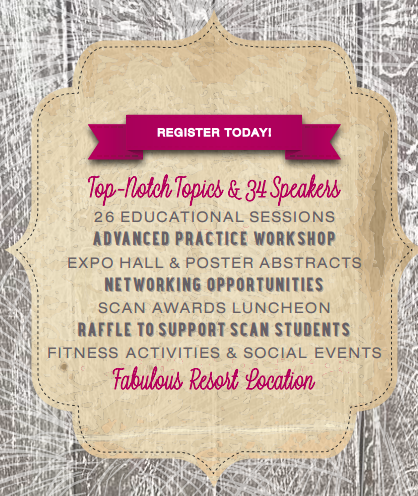 Exhibitors
The Exhibit hall is SOLD OUT!
Don't miss your chance to exhibit at the 31st Annual SCAN Symposium at Cheyenne Mountain Resort in Colorado Springs, Colorado. May 1-3, 2015. Register Early for your Exhibit Booth. More details coming soon.
Questions? Contact the SCAN Office.
Looking for a Dynamic Interaction?

Exhibit at the SCAN Symposium!

Click Here to see for yourself the benefits of exhibiting at Symposium.
Pictures from the 29th Annual SCAN Symposium in Chicago, IL
April 26-28, 2013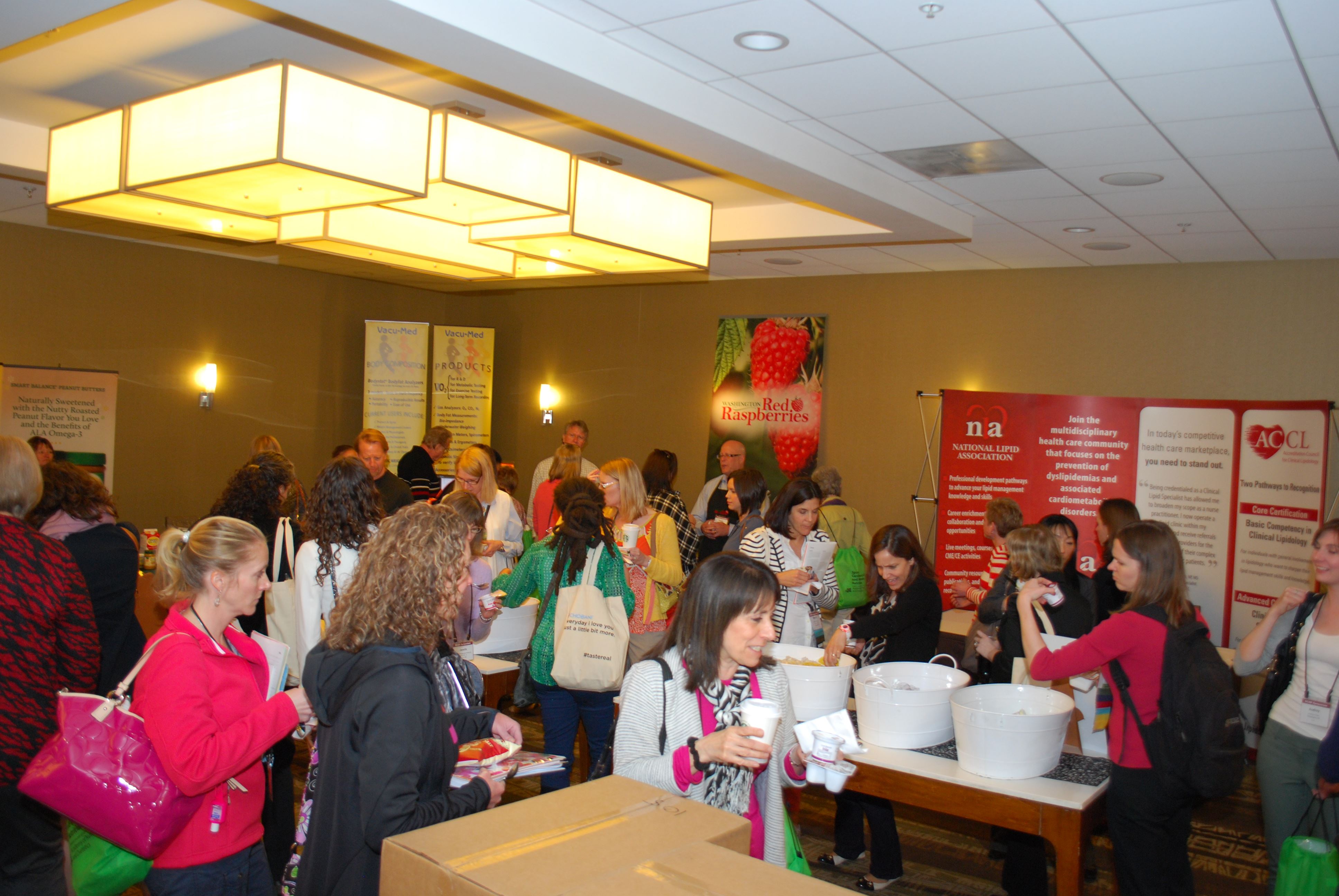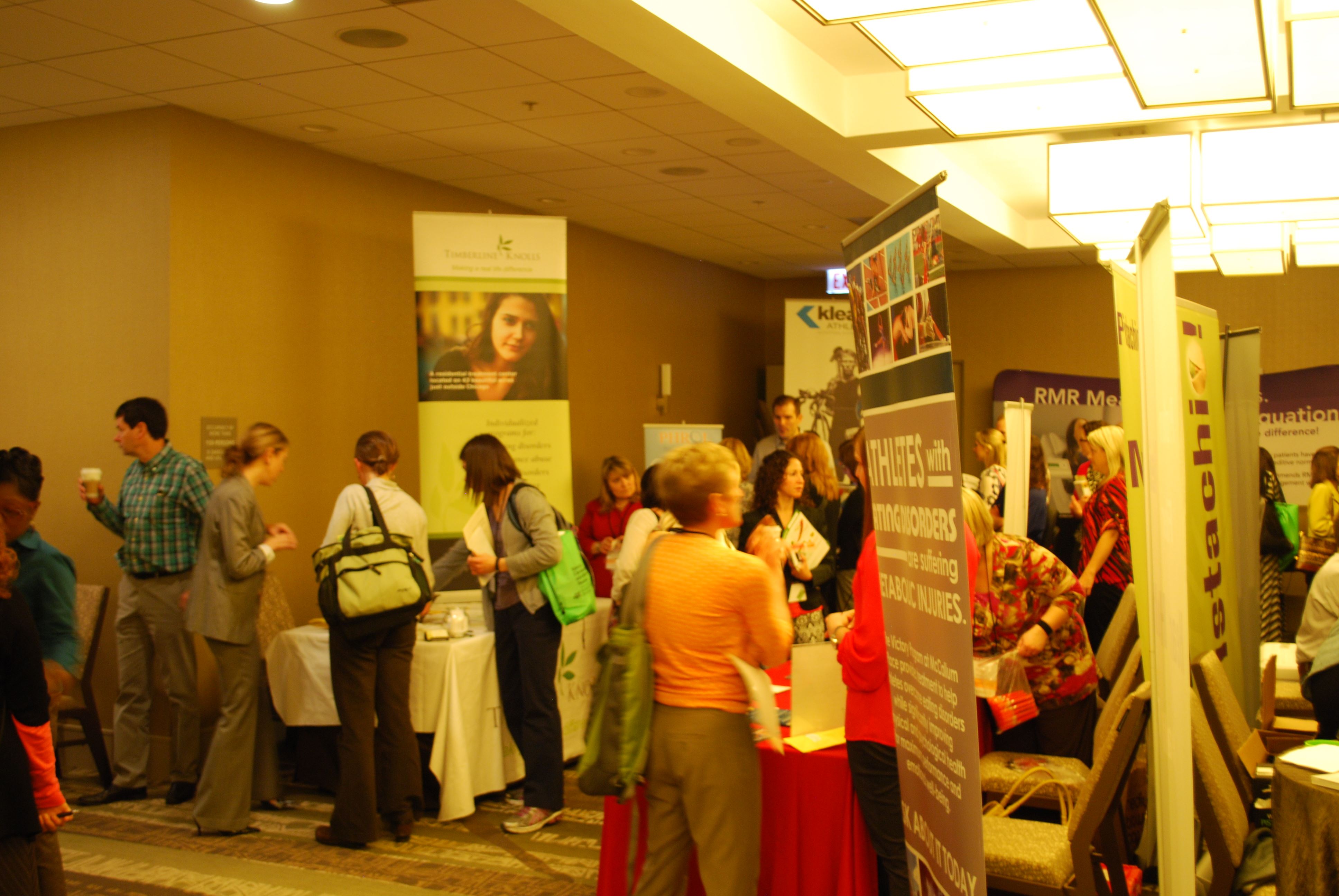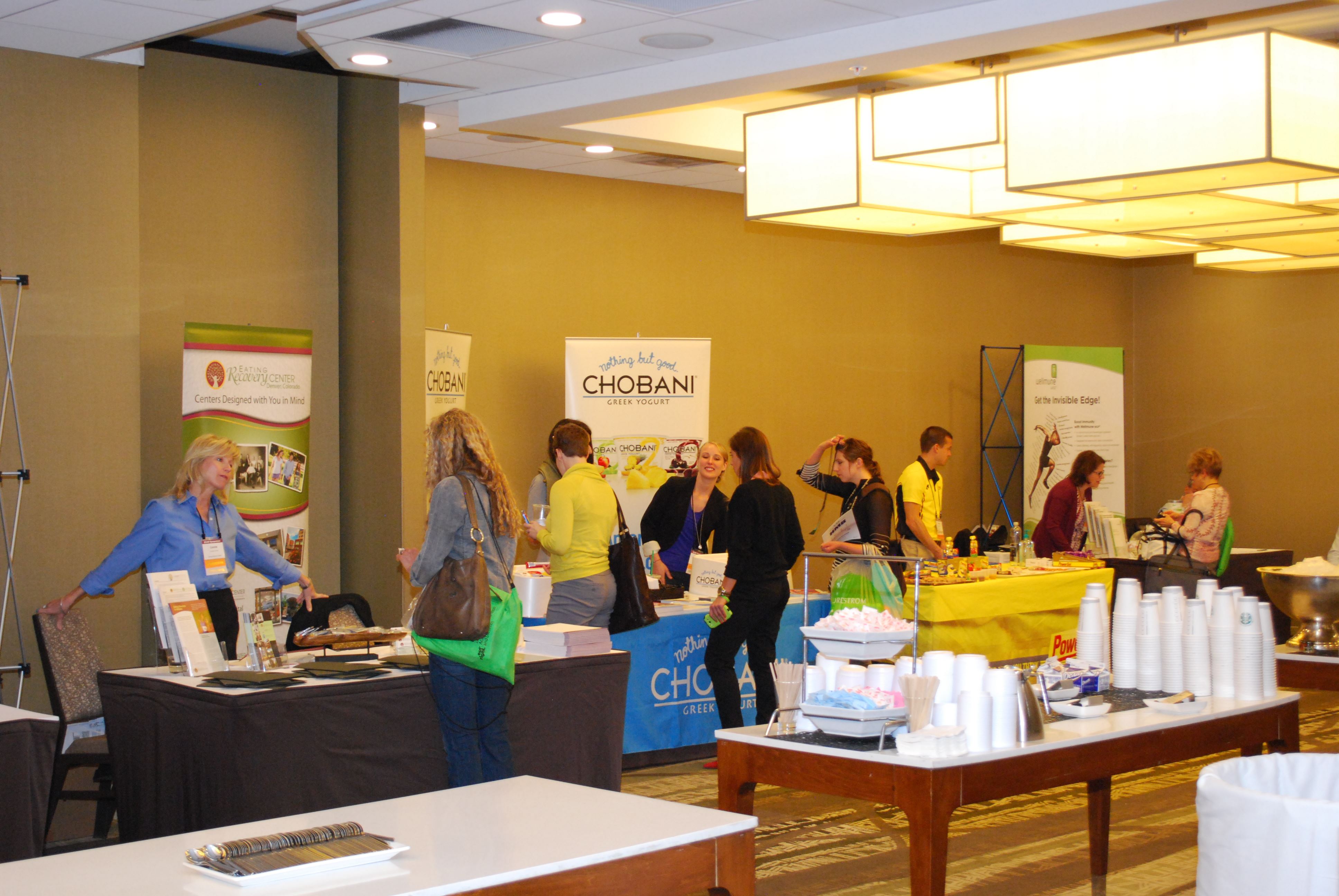 Testimonials
"SCAN is an invaluable ally in helping to communicate the health profile of real food and share recipes and utilization tips with dietitians, members of the media and consumers. We have benefited greatly from our relationship with SCAN. Participation in the SCAN spring symposium provides a great opportunity to interact with dietary experts and thought leaders." - International Olive Council & The National Onion Association, November 2012
"CanolaInfo prioritizes sponsoring SCAN's annual meeting because it is well attended and well run. It features top shelf speakers and cutting edge researchers, some of whom we have the opportunity to sponsor. SCAN organizers always ensure that sponsorships are a win-win for their members and sponsors in terms of relevancy and uniqueness. Their professionalism and responsiveness are second to none. We would absolutely recommend SCAN to other potential sponsors." - CanolaInfo, November 2012
"Over the past five years, SCAN has worked with us to develop new and innovative platforms and resources that enable us to reach their membership. Their collaborative attitude and results-driven mindset allows us to take part in programs that are of value to their members and provide a high ROI for our brands." - Craig Blakaitis, VP Pollock Communications, November 2012
Poster Sessions
The Poster Session Application is Now Closed
Thank you to all those that submitted abstracts for the poster session at Symposium, along with applications for the Graduate Student Grant Award. SCAN had more submissions than ever before! We will be notifying accepted applicants in the coming week, and are excited to showcase all this amazing research at Symposium.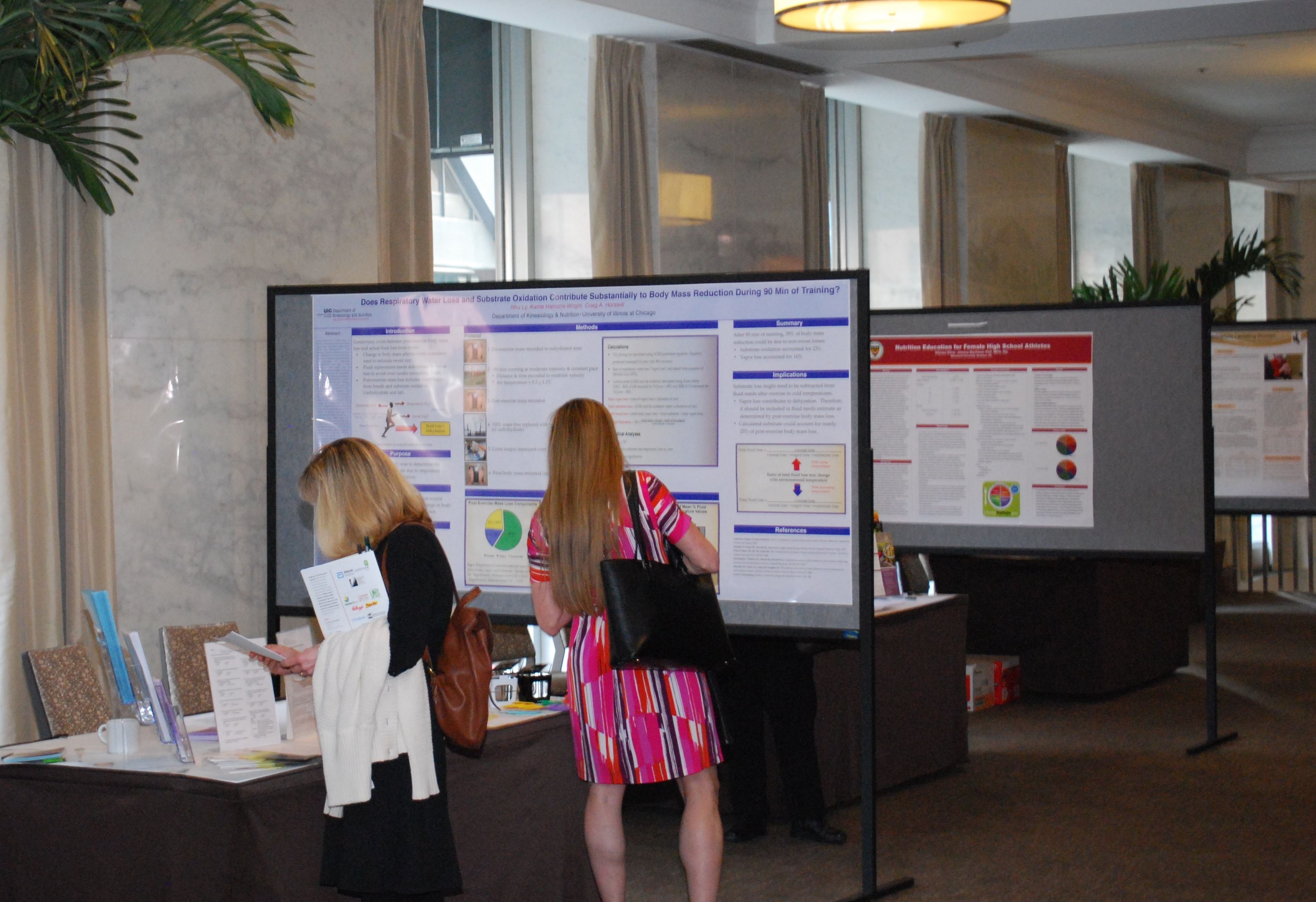 Upload Poster Session Application:
Location and Area Attractions
Escape to the shores of Lake Erie at the AAA Approved Diamond Rated 2013 Sawmill Creek Resort set on 235 acres of affordable luxury. Guests will enjoy ….



Around Town
Whether you prefer a getaway that includes lazy days at the beach, touring Ohio wineries, and bicycling around an island, or one filled with exciting thrills like waterslides, roller coasters, and entertaining nightlife, Ohio's Lake Erie Shores & Islands is the ideal destination. It offers a coastal retreat with abundant recreation options to satisfy a number of interests.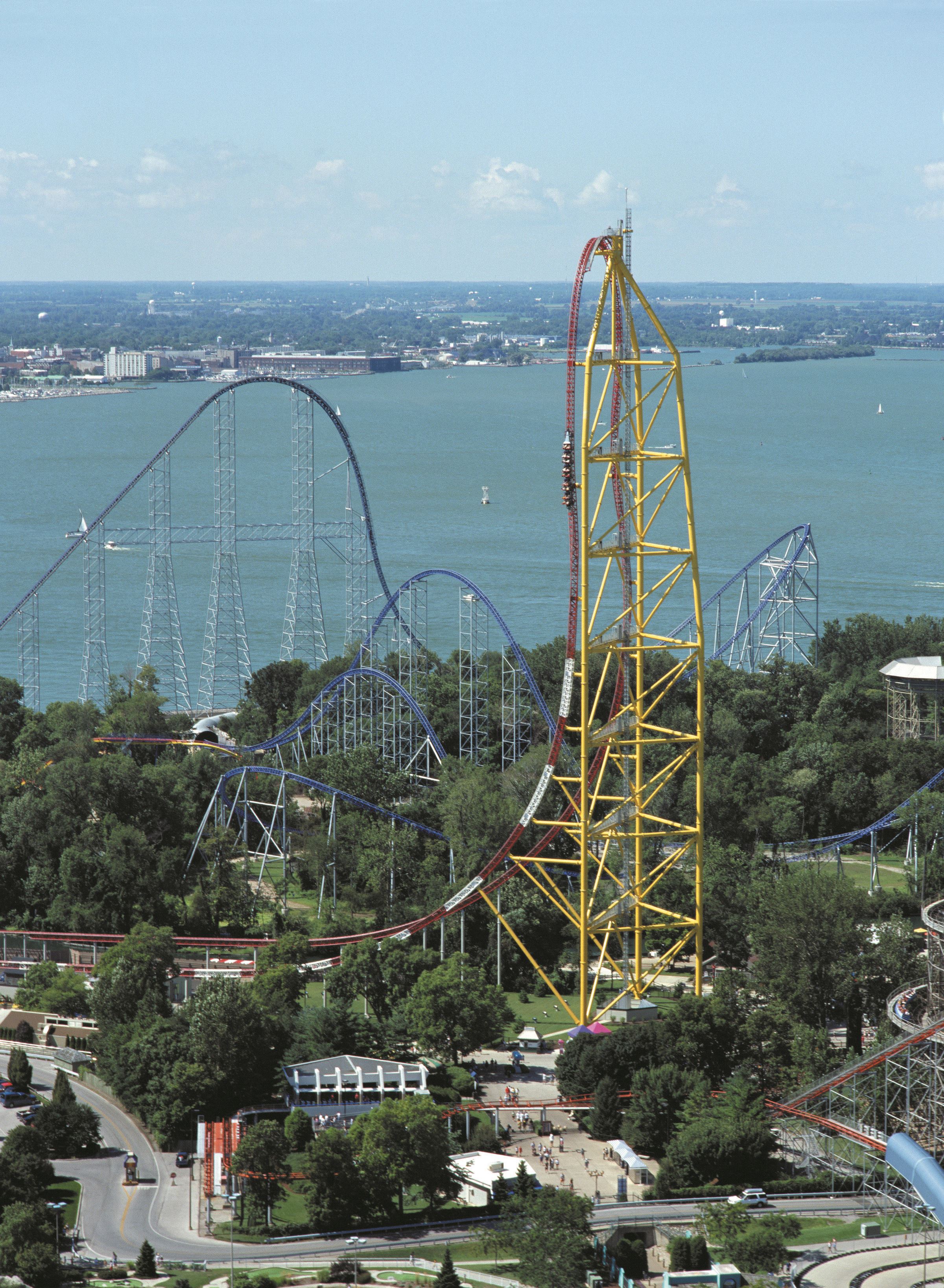 Cedar Point
Voted #1 Amusement Park in the World for 16 Consecutive Years!!!
The Starlight Ticket gives you access to the park between 5-10 PM. A perfect option for after our sessions on Friday.
Cedar Point is located approximately 7.5 miles from Sawmill Creek Resort. Shuttle service to/from Cedar Point is available through the resort.
Registration
On-line registration is now CLOSED.
On-site registration will be available and walk-ins are welcome.
SCAN Member (20%) & Academy Member (10%) Discount Eligibility: Members in either membership year 2013-2014 or 2014-2015 are eligible for the discount off the non-member registration rate.
Network Member Discount Eligibility: SCAN's Network Organization members will receive a 10% discount off the non-member registration rate. Select the "Academy & Network Members" rate and indicate your membership organization affiliation.
Ohio Academy members will receive a special 20% discount towards registration. If you are an Ohio SCAN Member you DO NOT receive an additional 20% discount.
Cancellation Policy: A fee of $50 will be applied to any registration cancelled after May 10, 2014.
Full Registration Rates
Student - SCAN Member
$120
Student - Academy and Network Members
$132
Student - Non-Member
$144
Professional - SCAN Member
$300
Professional - Academy & Network Members
$330
Professional - Non-Member
$362
Daily Registration Rates
Student - SCAN Member
$70
Student - Academy and Network Members
$77
Student - Non-Member
$85
Professional - SCAN Member
$140
Professional - Academy & Network Members
$156
Professional - Non-Member
$172
Student Volunteers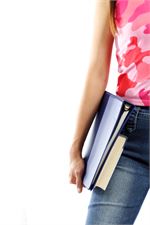 If you are a student local to Ohio and interested in volunteering at the Symposium please complete the SCAN Volunteer Form on our website and select 'Symposium' when indicating your main volunteer interest. A SCAN representative will be in contact with you. Students who are selected to assist during Symposium are required to volunteer 8 hrs of time in exchange for a full conference registration.
Contact the SCAN Office for more information
SCAN Office
3000 Bridge Ave., Ste. #4
Cleveland, OH 44113
P: (216) 503-0053
F: (216) 503-0041
Speakers
In consideration of the environment, speaker handouts will be available only on our website. So that participants may download your materials prior to traveling to Symposium upload presentations and handouts by May 10th.
Sponsors
Groups interested in sponsorships at the 30th Annual Symposium can contact Developement Director Hope Barkoukis.
Hotel Reservations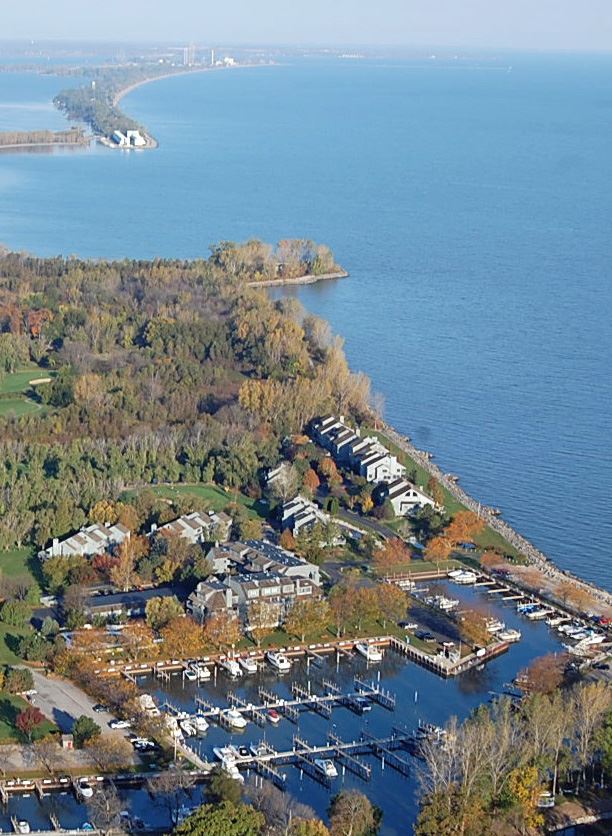 Booking Your Room
UPDATE: As of May 19, 2014, the SCAN Room block is sold out. The SCAN office suggests that you call Sawmill Creek Resort to confirm that rooms are not available in the event that anyone has canceled a room. If you cannot book a room at Sawmill Creek Resort. Call the Comfort Inn Cedar Point. Shuttle service will be provided each day at 7:30 AM, 10:40 AM, 4:00 PM, 6:30 PM.
Sawmill Creek Resort: The SCAN Symposium guest room rate is $150 plus tax for single or double accommodations. A deposit equal to one night's stay will be charged to your credit card when booking the room. Upon booking your room, request a receipt if you require reimbursement for this charge. Reservations can be made by calling 800-729-6455 and mentioning that you are attending the 30th Annual SCAN Symposium.
Comfort Inn Cedar Point:
2119 W. Cleveland Rd., Huron, OH, US, 44839
Phone: 419-433-5359
Website: http://www.comfortinn.com/hotel-huron-ohio-OH405?source=gglocaloz
Travel Information
Fly
Attendees are suggested to fly into Cleveland Hopkins International Airport. Discounted transportation is available to/from Cleveland Hopkins International Airport and Sawmill Creek Resort.
Ground Transportation
Shuttle Service: SCAN has contracted with Aqualimo as the transportation provider to/from Cleveland Hopkins International Airport and Sawmill Creek Resort. Rate is $35.00 per person, one way. You MUST book your shuttle transportation by June 11th. Visit www.AquaLimo.com. Click on "Contact Us" Under "Contact Info", enter Traveler Name, Email, & Phone Number. Under "Message", type in "SCAN." A form will be emailed to you to complete (CHECK YOUR SPAM FOLDER) with all of your flight and contact information. Representatives will meet you at baggage claim.
Taxi: SCAN does NOT recommend taxi service to Sawmill Creek Resort. Estimated rates are $90.00 - $110.00 each way.
Rental Cars:
Cleveland Hopkins Airport offer an array of
rental car options
.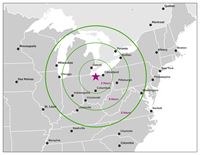 Drive
Sawmill Creek Resort is located within 500 miles of 2/3 of the population of the US. At the crossroads of America, Sawmill Creek Resort is easily accessible and diagonally crossed by the Ohio Turnpike (Interstate 80/90).
Free on-site parking is available.