Oliver E. Lopez, BA, BS
Graduate Student,
Nutrition and Food Science
Hunter College, New York, NY
Oliver Lopez
Tell us yourself, education, your background, and your current interests.
My name is Oliver Lopez and I have a BA in sociology. I am currently working on my BS-MS in Nutrition and Food Science at Hunter College in New York City. I'm interested in sports nutrition and in learning how eating the right foods can fuel better performance and recovery. I am currently wrestling for the New York Athletic Club where I compete in the Greco-Roman style of wrestling in national tournaments.

How did you become interested in nutrition?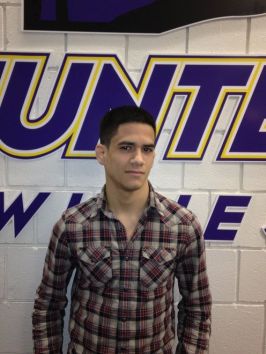 My interest started in high school where I participated in football and track. I wanted to become stronger and bigger for football so I started taking creatine and whey protein, but I didn't focus on the actual foods I was eating. It was only after I joined the high school's wrestling team that I learned what I ate directly affected my wrestling in terms of competing at a certain weight class. Wrestling, similar to boxing, is a weight class/category sport where athletes tend to lose weight to compete at a lower weight class. Because of this practice, I needed to watch what I ate to make the lower weight class but still have strength.
You have experience teaching nutrition and conducting nutrition workshops. Tell us about that experience and something you learned.
My first experience was teaching nutrition and physical activity classes to high school freshmen in a Peer Health Exchange program. I also conducted a nutrition workshop that I had designed for a group of parents at a local public school in Brooklyn, New York. This workshop went so well that the parents wanted me to return the next week and for the school's career day. In another instance I was given the opportunity to conduct nutrition workshops for the men's and women's basketball teams and wrestling team at Hunter College in cooperation with the athletic department and the college health services.
I have recently been contacted by the Beat The Streets Wrestling organization which provides mats and equipment to middle schools and high schools to start a wrestling program in their respected schools. The overall mission of this organization is to take kids off the streets and put them on the wrestling mat. As a part of the organization's first summer wrestling camp, I will be employed to conduct a sports nutrition workshop to teach kids the importance of hydration and eating for performance. Also, I have just started my fieldwork hours for a practicum class located in low income areas in New York City. Two other graduate students and I are designing and conducting nutrition workshops for parents, teens, and kids as a part of the "I Have A Dream Foundation". I have found these types of workshops to be very fulfilling; being able to help others to better understand how to eat healthy and to answer their nutrition questions is awesome. For some people nutrition may be complicated by media information that makes them feel overwhelmed by what is reported to be safe or healthy to eat. Some people simply are not aware of the potential damage a poor eating habit can have or conversely the many benefits a healthy eating habit can have on overall physical and mental health.
How did you become interested in sports nutrition? Describe something you gained from your experience in this area.
Once I enrolled at Hunter College I joined the wrestling team. As a college athlete I socialized with the other student athletes and I noticed that many of them did not eat the proper foods before, or after practices or games. When I would see the men's and women's basketball teams eat inappropriately before games, I would wonder if they realized what are were doing. I wondered if they would regret their choices as they ran down the court or not perform to their full capabilities. Another reason why I want to work with athletes is that they are usually more motivated than the average person because they are looking to perform better at their respective sports. My job is to show them how eating healthy can fuel greater performance in practice and in competition. Hopefully, that would motivate them follow a performance meal plan and make the necessary dietary changes to be better.
What are your professional goals? Once you become a registered dietitian, what kind of work do you want to do?
The general plan is to gain some years of experience in clinical work because that seems to be a basic requirement of many RD positions. After that I will apply for sports RD positions wherever I can find them since I am not bound to NYC. Ideally I would like to work for a Division 1 college sports program as a sports dietitian working with the various teams in designing food plans for their athletes. The next level after that would be to be a sports RD with a professional sports team, such as football or baseball, etc. Also, I am interested in working in a private nutrition practice where I can speak with patients on an individual basis and work with them in designing a nutritional eating plan that best fits their needs.

Is there anything else you would like to share with other students?
My advice is to gain plenty of experience during your studies in many nutrition areas such as community, clinical, food science, food service, education, policy, etc. because that will help you narrow down what area of nutrition in which you may want to specialize. Always keep in mind that food can be very personal for people. We should respect that and work around and within that frame of mind.
6/20/13