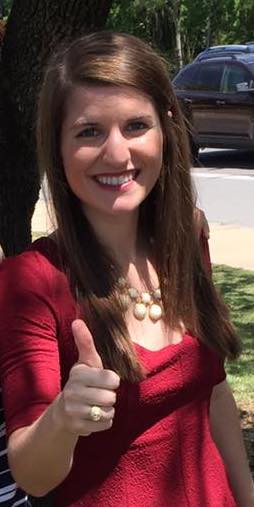 Parker Ackerman
Tell us about yourself, education, your background, and your current interests.
I was born and raised in Dallas, Texas and have always loved food, the competitive nature of sports, and how they intertwine. I graduated from Texas A&M University's Didactic Program in Dietetics in December and am currently a Dietetic Intern and Graduate Student at Texas Woman's University in Denton, Texas. Although life is busy, I really am loving the program and have already gained lifelong friends and valuable knowledge that I can apply to my future career.
How did you become interested in nutrition and sports nutrition?
My interest in sports nutrition began after I experienced injuries due to under-fueling and overtraining in high school. I am an avid runner (14 half-marathons, currently training to run my 3rd marathon in December), but the path has been far from easy regarding sports injuries. I ran track and cross-country in high school and made it to the Track and Field Junior Olympics Championship for the 3000 meters. Soon after competing, I was diagnosed with a femoral neck stress fracture and a second metatarsal stress fracture going into my senior year. Those injuries put me out for 12 months and eliminated my hope of competing at a collegiate level.

I remember the doctor saying, "You won't be able to run more than twice a week ever again." Little did he know, he would spark my interest in sports nutrition. I began researching nutrition daily and paying more attention to how I was fueling my body. I soon realized that I had been undereating, which probably contributed a large amount to my injuries. Six months after being cleared, I ran my first half-marathon (2013) and became addicted. I now have a strong desire to teach athletes of all ages about nutrition to prevent them from going through what I did. I also want to teach athletes, especially females, how to have a healthy relationship with food, and show them that if they're determined enough, anything is possible.
You have interned with a practicing sports dietitian. Tell us about that experience and something you learned.
My favorite internship was in January when I was accepted to intern at Nutriworks with Eve Pearson, MBA, RDN, CSSD, a private practice sports dietitian in the Dallas-Fort Worth area. I interned with her from January-May and saw a variety of athletes, developed meal plans for all types of individuals (from weight loss to ultra-marathoners), wrote newsletters for various high school sports teams, calculated sweat tests, helped with grocery stores tours, helped her present at a local high school, as well as helped with the Nutriworks fueling station at an Ironman distance triathlon. My experience was incredible and I did not want to leave. I learned so much, but what stands out the most is how difficult it is to make meal plans for athletes with varying goals. The most challenging scenario, in my opinion, is an endurance athlete who wants to lose body fat, maintain lean muscle mass, but also have enough energy to train and not bonk. Everything I took away from Nutriworks has helped me tremendously in my studies, especially as I hopefully progress to become Board Certified as a Specialist in Sports Dietetics (CSSD).
What other experiences have you had in nutrition?
I am very fortunate to have had many incredible experiences in nutrition. I have interned at a private practice that specialized in weight loss and diabetes education. I was lucky to work alongside Texas A&M graduates, who helped me learn the process of meal planning for different caloric requirements. I interned at the Texas Christian University Fueling Station for two summers where I provided and made snacks for the athletes before and after practice. Additionally, I learned valuable food service skills that are necessary in the collegiate and professional sports setting.
I also interned at Neily on Nutrition, a private practice in Dallas, where I helped write and analyze a variety of recipes, performed research, worked with social media, and listened in on client consultations. This past summer, I worked at Camp Shane, a weight loss camp in San Antonio, where I served as the head Nutritionist, as well as a fitness and sports instructor. I taught nutrition, fitness, and sports classes to overweight and obese children and young adults ranging from ages seven to eighteen. It was the most rewarding experience and I still keep in touch with my campers and hear about their continued weight loss!
What are your professional goals? Once you become a registered dietitian, what kind of work do you want to do?
I love all aspects of nutrition and I am constantly exposed to new interests daily. My ultimate goal is to become a private practice dietitian with an emphasis in sports and weight management. I want to help people of all ages meet their athletic goals, as well as to help those who struggle with their weight in general. I also have an interest in research and want to start a school program for overweight kids to get them moving and teach them basic nutrition skills.
Is there anything else you would like to share with other students?
Don't be afraid to dream big! Take the first step towards your goal, even if it's intimidating, it's something you won't regret. Stay focused and believe in yourself! As my favorite quote says, "There is no elevator to success. You must take the stairs." The hard work will pay off!