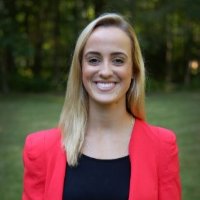 Olivia Foote
Tell us about yourself, education, your background, and your current interests.
I am happy to head into my final year in my dietetic program at Western Michigan University. I started my college career solely interested in exercise science, but as I took classes, nutrition stood out to me instead. I switched my major to dietetics and it was easily the best decision I have made for myself.
I enjoy staying active in my college community as President of our Student Dietetic Association, and as a fitness instructor at our student recreation center. Staying busy is something I enjoy, I keep my plate very full as a student but I wouldn't have it any other way.
How did you become interested in nutrition?
My mother plays a huge role with my interest in nutrition. Growing up, eating healthy was always encouraged upon my siblings and me, my mother always made us conscious of what we were eating and how it would later affect us. When I made the decision to switch to dietetics, I knew that I was driven to make an impact on a future client's life like my mom made on mine with nutrition.
You participated in an internship with the strength and conditioning coach at Western Michigan University (WMU). Tell us about that experience and something you learned.
About three years ago, I began an internship under the WMU strength and conditioning coach. I simply approached him after he spoke to one of my introductory exercise science classes and asked him what they did with nutrition. As we talked more, he told me how there is nothing there and offered me to come implement nutrition to the athletes until I graduate. During my internship, my main goal was to get the same message across to student athletes as my mother did with me, I wanted them to understand the impact food has on our bodies.We do not have a Sports RD on staff so I really had to be creative when reaching out to these athletes, I tried to put myself in their shoes. All the worksheets, presentations, and handouts were made from scratch, I started everything from nothing. During my time with the athletes we have done grocery store tours, and primarily nutrition education through individual and group presentations with variety of teams.
I worked to incorporate sports nutrition as much as I could as I grew as a dietetic student. This experience was not easy and came with trial and error, all the handouts, presentations were my own research and what I thought would be important. As time passed I was able to create a better relationship between certain athletes, listen to what they wanted to learn and adjust my program accordingly. This internship has really opened my eyes to the sports nutrition world and how an RD makes a tremendous impact on an athletic program.
What other experiences have you had in nutrition?
My other experiences have been as a dietary aide in a nursing home, volunteering with local food banks and farmers' markets, as well as a range of community work. As an active member (and now president) of Western's Student Dietetic Association, gaining experience in the nutrition field has been easy with the opportunities that we offer.
What are your professional goals? Once you become a registered dietitian, what kind of work do you want to do?
I have been able to shadow two sports dietitians in my undergraduate career and was able to see what I may and may not implement in my own sports nutrition program in the future. I plan to pursue a dietetic internship and then my career as a Sports Dietitian as well as planning to become Board Certified in Sports Dietetics as soon as I start my professional career. I am confident that one day I will make an impact on a program from the experience I have gained and have yet to gain in my future.
Is there anything else you would like to share with other students?
Make dietetics your own journey, there's no right or wrong way to create your path.
Sept 2017