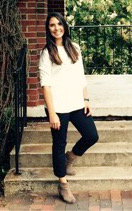 Mickinzie Lopez, MS
Dietetic Intern
Meredith College
Raleigh, NC
Mickinzie Lopez, MS
Tell us about yourself, education, background, and current interests.
I recently graduated with a Master's degree in Nutrition from Bastyr University and have relocated to San Diego, California as a distance intern with Meredith College. My interests change frequently, but I am currently enjoying learning how to surf and training for various races in the year ahead, including the Nike Women's Half Marathon in San Francisco, Ragnar Relays in Las Vegas, and the Raleigh Half Ironman.
How did you become interested in nutrition?
I first became interested in sports nutrition as a student athlete at Arizona State University. I trained and competed on the Rowing and the Cycling & Triathlon teams, and quickly became aware of the lack of education athletes often have regarding appropriate nutritional guidelines and supplementation to support athletic performance and overall health and wellbeing. This concept became even more evident as I became involved in endurance races and trained with a local triathlon team. Over the next few years, I gained experience working in a supplement store and exploring alternative methods of fueling performance with a whole foods nutrition approach as I trained for my first Ironman triathlon.
As a graduate student, you have been involved in clinical nutrition. Tell us about that experience and something you learned.
Upon admittance to Bastyr University's Master of Nutrition program, I began exploring other areas of nutrition, including diabetes and cardiovascular wellness. I was selected to represent the Nutrition Department as a student clinician for 12 weeks on an Integrative Diabetes and Cardiovascular Wellness shift at the Bastyr clinic. That clinic shift was one of the most eye-opening and valuable experiences I have ever encountered upon my path to become a Registered Dietitian. The most memorable lesson I learned was the added value of working with an integrated team approach to health. I worked with the patient, the naturopathic doctor on staff, and the team of naturopathic students to develop lifestyle plans to support the patients in all areas of wellness, including nutrition. Together, we effectively provided care plans that truly sought to improve the patients' health status and quality of life.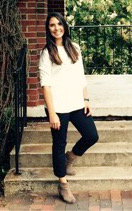 What other experiences have you had in nutrition?
Last summer I volunteered in Peru as a nutrition intern in the regional hospital and various community clinics. This experience provided me the opportunity to enhance my Spanish in a medical setting and allowed me to observe healthcare practices in a different culture. I worked with local professionals and medical students to start a free clinic in a poverty-stricken village on the outskirts of town, provided group and individual nutrition education to mothers and children, made home visit appointments, and led cooking demos for the community. Overall, it was an amazing experience and I would highly encourage students with the opportunity to travel abroad and practice nutrition to do so!
Additionally, back in the States, I have held many leadership positions, including my role as President of the Sports Nutrition Club and Board Member of the Student Nutrition Association. Last year I had the opportunity to work with a local RD to develop a menu for professional athletes during a training camp at Nike Headquarters. I was able to integrate many components of anti-inflammatory foods into their meals. Also, I have worked with Food Coaching, LLC, providing nutrition counseling in a corporate wellness setting for employees of Whole Foods Market.
What are your professional goals? Once you become a registered dietitian, what kind of work do you want to do?
My goals are aimed directly at becoming both a Board Certified Sports Dietitian and a Certified Diabetes Educator. I want to provide athletes with the knowledge and confidence to enhance performance through a whole foods approach and assist athletes with diabetes in managing their blood sugar as they pursue their athletic ambitions. I hope to one day work with athletes for Team USA at the Olympic Training Center and with Special Forces teams in the US Military. I have met RDs in both of these areas, and am incredibly inspired and excited for the career I have ahead of me!
Is there anything else you would like to share with other students?
Seek a variety of experiences throughout your education and internship years! There are countless opportunities in all areas of nutrition that allow students to really get a feeling for what different fields and specialties look like and to develop a portfolio of truly unique experiences. You never know when a contact you make or a skill you develop will come in handy later down the road.
September, 2015