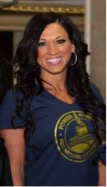 Jessica Isaacs
Dietetic Program
Purdue University
West Lafayette, IN
Jessica Isaacs
Tell us about yourself, education, background, and current interests.
I am a non-traditional student (29-year-old mother and wife) in my junior year in the Dietetics Program at Purdue University. After high school I joined the Air Force where I spent 3 years before having my daughter and separating from the military. After leaving the Air Force, I started pursuing my degree with the intention of becoming a nurse—until I fell in love with nutrition.
In my spare time, I enjoy weight training. I am a personal trainer with an online personal training business, in addition to competing in physique competitions, and coaching a team. Needless to say, I stay rather busy and I thrive with my plate full.
How did you become interested in nutrition?
A few years ago I decided to finally "get healthy" after suffering from an eating disorder for over a decade. I started educating myself on healthy eating and began exercising. Fitness and nutrition became my absolute passion and I knew I had found what it is I am supposed to do with my life. I get excited talking about fitness and nutrition and it's a love I want to share with others by educating them on the benefits of adopting a healthy lifestyle.
You have been involved in bodybuilding and coaching for competitions. Tell us about that experience and something you learned.
While living in Germany, I decided to compete in a local show. After placing 2nd, I went on to enter a few more and was recruited for a competition team, Team Armed Forces Europe. After I walked off stage at my last show, I realized I cared more about the success and the journey of my teammates than I did about my own placement, and decided I wanted to coach.
In October 2013, I stepped into a coaching role for the team that has now grown into over 30 male and female athletes comprised of military members, spouses, and veterans. In two years of coaching, the team has taken 28 top 3 awards. Working with these athletes has been one of the most rewarding experiences I have ever had. I design custom workout and meal plans for each of my athletes, to prepare them for 12-16 weeks of training, leading up to a competition. Each athlete I work with has a story and is inspirational. It is an honor to lead them.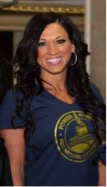 Competing requires an immense amount of sacrifice and dedication. It means passing up vacations, social events, and evenings out. The workouts are tough, the diets are tougher. It takes an emotional toll on most and requires that I not only be a coach, but also a friend. I devote hundreds of hours each show to coaching the team (which also means logistical planning, marketing, coordinating events, etc.), and I would give more if needed, just to make these athletes look and feel as amazing as they are.
What other experiences have you had in personal training?
I have been running my online training business for the last year. It has been a learning experience for me. I generally work with clients who know how to work out, but are looking for direction on reaching the next step. As an online trainer, I write programs and deliver them to each client by email. This poses challenges when it comes to keeping them on track and motivated. Since I am not physically present, I rely on the client's honesty to keep them accountable each week.
With any personal trainer, I have some fantastic success stories and I've had a number of clients drop out. I have learned those that set S.M.A.R.T. (Specific, Measurable, Achievable, Realistic and Timely) goals are the ones who are most successful. "I want to get fit" or "I want to look better" is great, but saying "I want to lose 15 pounds in the next 6 months" is a goal that has a timeline and is S.M.A.R.T. Those who can pursue the latter generally will be successful.
As a student, what is your involvement in professional organizations?
I am a member of the Purdue Nutrition Society, in addition to being a student member of the Academy of Nutrition and Dietetics, SCAN, Indiana Academy of Nutrition and Dietetics, the Collegiate and Professional Sports Dietitians Association, and the School Nutrition Association. I am actively working towards becoming more involved in each of these organizations and would love to assume a leadership position in the future.
In addition to these organizations, I also volunteer for Meals on Wheels of Indianapolis, delivering nutritious meals to homebound seniors.
What are your professional goals? Once you become a registered dietitian, what kind of work do you want to do?
My career aspirations are to fuse my passion for fitness and nutrition into becoming a Board Certified Specialist in Sports Dietetics (CSSD). It would be my dream to work with a collegiate or professional sports team as a full-time Registered Dietitian.
Is there anything else you would like to share with other students?
Being a non-traditional student, I had a lot of time and various experiences to "find myself" and find what I was passionate about in life. I thought I had it all figured out and was headed down a path that would be fulfilling for me, and I realized there was something else that got me out of bed and excited each day. When you take the traditional path of going into college right from high school, you don't necessarily have those opportunities. Take advantage of getting involved in a wide variety of extracurricular activities and other hobbies that will allow you to have new experiences and opportunities. Never be afraid to step outside your comfort zone and take chances!
August, 2015