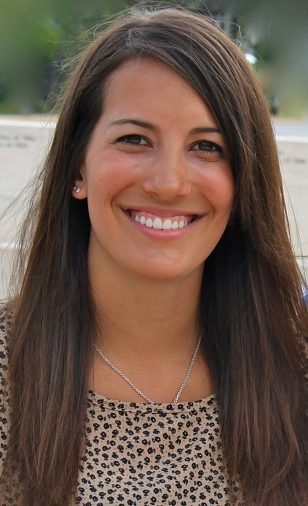 Bethany Noack, CSCS
Graduate Student and Dietetic Intern
Texas A&M University
College Station, TX
Bethany Noack
Tell us about yourself, education, background, and current interests.
I am currently a loud and proud Fightin' Texas Aggie, having received my B.S. in Nutritional Sciences and Dietetics in May 2013 at Texas A&M University (TAMU). While nutrition is my first love, I knew I wanted to work with athletes and gain knowledge of exercise adaptations, leading me to the TAMU combined MS/DI program where I could work towards an M.S. in Kinesiology with an emphasis on Sports Physiology. I began graduate work in fall 2013 and additionally work in several different areas, all experiences that I have achieved by taking initiative and seeking opportunities outside of my undergraduate nutrition program.
My interests include understanding the link between food as fuel and exercise in order to optimize training adaptations and improve health parameters. Outside of school and nutrition, I love animals (having 3 cats, a dog, and a snake of my own), and enjoy running, triathlons, weightlifting, country dancing, traveling, and football. I've run multiple half marathons and completed my first full marathon 2014!
How did you become interested in nutrition and sports nutrition, in particular?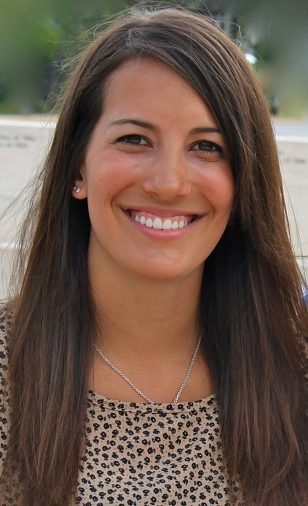 My interest in nutrition began early on in life through experiences as a child athlete. Through twelve years of competitive swimming, I learned through coaches, previous Olympic swimmers, guest speakers, and personal experience the effect proper nutrition has on performance. My ability to compete instantly began to improve when I altered my nutrition and I achieved nationally recognized times. This knowledge propelled my desire to become a registered dietitian and created my passion to incorporate nutrition, along with proper training, to help athletes improve their health and achieve their performance goals. Throughout my undergraduate career I became involved in both collegiate and professional organizations including Texas A&M Nutrition and Dietetic Association, The Academy of Nutrition and Dietetics, Collegiate and Professional Sports Dietitians Association, SCAN, and the Texas A&M Triathlon Team.
Tell us about your experience working in a nutrition consulting practice. How did you gain employment and what have you learned?
During my undergraduate program, I continually sought out opportunities to set myself apart from other students. The spring of my junior year, I found an internship opportunity with Nutriworks Comprehensive Nutrition Consulting, a private practice located in Dallas, TX. Throughout summer 2012, I interned under a sports dietitian, Eve Pearson, MBA, RDN, CSSD, LD, where I learned to write nutrition handouts and articles, analyze diet records, and observed client consultations with a variety of goals (including muscle gain, endurance training, and fat loss). At the end of the summer, Eve immediately hired me on to work for her as a Sports Dietitian Assistant and I have been working for her ever since from my home in College Station, TX.
Through the years, my responsibilities have grown and my primary job is now writing menu plans for individual clients based on their nutritional needs and goals. I have learned countless information about sports nutrition from Eve, as my undergraduate program did not include any performance specific sports nutrition classes. Specifically, she has taught me that no matter the sport, eating to train and not training to eat is imperative for reaching performance goals.
What other experiences have you had related to nutrition?
I never stop looking for opportunities to gain new skills and more nutrition knowledge. For the past year of my graduate program, I have volunteered for Diana Nguyen, MS, RD, LD, Assistant Director of Performance Nutrition for TAMU athletics. I have presented nutrition education to numerous sport teams, prepared educational handouts for student athletes, and conducted dual-energy X-ray absorptiometry (DEXA) scans to monitor body composition.
I also work as a Graduate Assistant in the Applied Exercise Science Laboratory where I assist with research studies that incorporate both exercise and nutrition with health parameters. This year I will be conducting my own research, comparing caloric intake and energy expenditure in female collegiate soccer players and non-athletes.
What are your professional goals? Once you become a registered dietitian, what kind of work do you want to do?
My professional aspirations include promoting quick recovery and providing patients with nutritional information in a clinical setting as a Registered Dietitian. I hope to educate patients on their individual nutritional needs to combat disease and create an enhanced way of life. Once I have gained experience, I desire to take my clinical skills to the athletic world and become a Certified Specialist in Sports Dietetics (CSSD). I will counsel athletes in a collegiate setting, utilizing my knowledge to enhance body composition, athletic performance, and overall health on and off the field. I hope to strengthen and improve young athletes' performance, helping them achieve their peak ability and goals through nutrition. My ultimate goal is to become a Registered Dietitian for the United States Army where I can work alongside exercise physiologists and medical officers to provide leaner, stronger, healthier, and faster soldiers At this level, optimal health is not only essential for performance but for survival.
You have earned the Certified Strength and Conditioning Specialists (CSCS) certification from the National Strength and Conditioning Association (NSCA). How does this certification benefit you now? How do you anticipate that it may benefit you in the future?
Through my Sports Physiology graduate program, I have learned to implement exercise programming to advance performance, obtaining my CSCS certification. Currently, it is beneficial as it allows me to be more than the "food person" to student athletes. I have a deeper understanding of the training requirements of each sport, allowing me to connect with them as well as tailor key nutrition information. I believe this certification will continue to benefit me for these reasons, as well as allow me to market myself for more diverse positions.
Is there anything else you would like to share with other students?
I encourage students to persistently pursue as many experiences as possible; never expect opportunities to fall in your lap. In order to be successful, it is critical to make a conscious effort to turn your goals and dreams into a reality. I also advise students to attend the annual SCAN Symposium. I attended my first in 2014 and loved the networking opportunities. I plan to attend each year because I believe that learning and education never stops. As students, it's easy to be fed new information; it's imperative to learn how to continually seek out education on your own to stay at the top of the field as a professional. It's also important to make a strong impression on professionals and to earn a respectable reputation even as a student and intern (you never know what doors could be opened as a result!).
June 2015