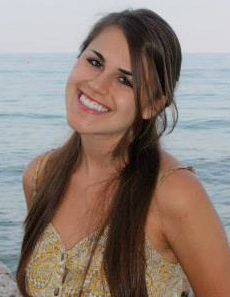 Alexandra Raymond
Senior, Dietetics Major
University of Maryland
College Park, MD
Alexandra Raymond
Tell us yourself, education, your background, and your current interests.
I am a senior dietetics major at the University of Maryland and am originally from New Jersey. Running is one of my favorite hobbies and I will run my second marathon, the Walt Disney World Marathon, January 2014, in Florida. I can't wait!
I intern at Rebecca Bitzer and Associates, a private practice dietitian's office in Maryland. I absolutely love it. I work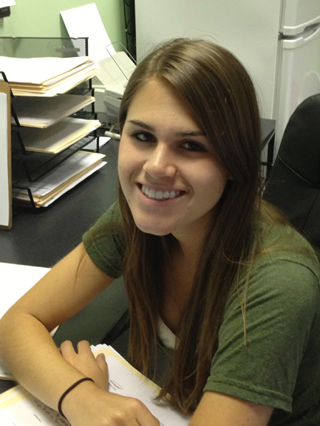 closely with seven talented, intelligent, and determined registered dietitians (RDs) who have taught me so much! Currently, I am most interested in sports nutrition and eating disorders. I recently attended the 2013 National Eating Disorders Association (NEDA) Conference in Washington, DC on a scholarship and learned so much about current research in eating disorders. I could not imagine any other career except being an RD and working with clients, especially athletes who struggle with disordered eating.
How did you become interested in nutrition?
When I was younger nutrition was never a big part of my life. As a child, Halloween was my favorite holiday; I used to eat my Halloween candy for breakfast! But, in high school I became really invested in volleyball. I attended a sports performance training camp where the importance of nutrition to improve performance was strongly emphasized. That's when I started researching about relationships between sports and nutrition. During my senior year of high school I began running and I quickly learned that proper foods really fueled my workout. Sound nutrition allowed me to run longer distances.
You have been involved in writing a blog. Tell us about that experience and something you have learned.
Another intern, Shelby Santin, and I have developed a weekly blog series on the Rebecca Bitzer and Associates' Empowered Eating website entitled "From College Girl to College Girl". We write about nutrition and health issues concerning college women. Topics include general healthy eating habits, how to have a healthy relationship with food and your body, recipe ideas, and stress management techniques. We created the blog because one of our main interests is eating disorders/disordered eating and how an RD can help individuals who suffer from these challenges. One of the things we can do as dietetic students is to promote the idea of a healthy food relationship, especially for other young women on campus.
Through this blog I learned about the true power of social media. You can make so many connections across the country. Shelby and I are proof of this; we were asked to speak at the NEDA conference in Baltimore because one of the eating disorder professionals actually read our blog posts! It's a great feeling knowing that professionals have accessed our blog.
What other experiences have you had regarding nutrition in relation to social media?
We also have Facebook and Twitter accounts. I think that social media is very important when trying to convey a nutrition message, especially for RDs and other members of the health field. There are SO many nutrition myths and many of them make food the enemy. It's important for the average individual to know that carbohydrates are important and that it's okay to eat a snack after 7pm.
I think that is what our blog and Facebook page are trying to target. We want to promote healthy eating habits and a positive relationship with food. Especially in college, women are constantly comparing themselves to their peers, so we hope this blog can help reduce some of the pressure college women may feel about foods and body image.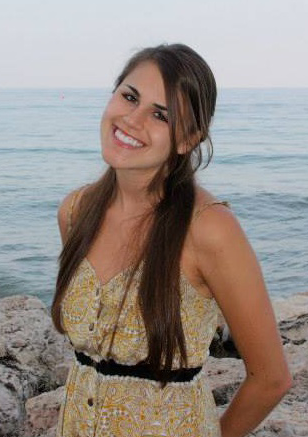 What are your professional goals? Once you become a registered dietitian, what kind of work do you want to do?
In an ideal situation, I would work with athletes who struggle with eating disorders/disordered eating. I really feel that I can make a different in this area of nutrition; it's something I'm truly passionate about. I think female athletes, especially, are under pressure from their coaches, their peers, and the media to look a certain way. This pressure often affects their relationship with food, making food the enemy. This is definitely an area that I can see myself helping others and giving great nutrition advice that helps athletes learn how to improve their relationship with food and learn proper fueling, hydration, and recovery techniques.
An RD can make such a difference in someone's life, since RDs truly are the "nutrition experts." It is my dream to inspire my future clients and guide them on the path to proper nutrition and overall health. Food is too often made the enemy, and I hope to inspire my clients to think the opposite and learn to enjoy new food and to not stress about what they are eating.
Is there anything else you would like to share with other students?
Find what you are passionate about and stick with it. The nutrition and dietetics field keeps growing and expanding as people are finally realizing that nutrition affects every single aspect of our lives. There are so many opportunities for RDs; if you're not quite sure what your niche is, that's fine, too. Just dream big! Nutrition students have the ability to make positive changes in their college communities.
For example, Shelby and I have created a "From College Girl to College Girl" presentation, and we've had the opportunities to speak at different sororities on campus about nutrition and body image. We've gotten great feedback. During our presentation, we actually practice techniques with the participants to improve body image and relationships with food. I think women really love this and can relate to what we are telling them. Since I was a 2013 NEDA Scholarship Recipient I had the opportunity to attend the conference in Washington, DC along with professionals in the field and those who have a personal relationship with eating disorders. I applied not knowing if I would be a recipient or not, but I took the chance and won! I learned SO much at this conference that I can apply to my future professional career and also to my current blog.
Remember, the possibilities are endless. As the future of dietetics expands, we have so much ahead of us, so enjoy the ride!
1/2/14