Sports Nutrition Fact Sheets: A Trusted Resource

SD-USA is pleased to offer Sports Nutrition Fact Sheets on topics of interest to sports dietitians, exercise professionals, athletes, and the general public.

The fact sheets provide timely, accurate, applied i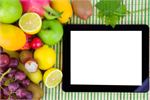 nformation and guidance authored and edited by SCAN Registered Dietitians (RDs). Reproduction of the fact sheets is permitted for educational purposes with credit granted to SCAN. Reproduction for sales purposes is not authorized.
Sports Nutrition Fact Sheets
Additional Fact Sheets for Athletes
Dietary Supplements—Regulation (under revision)
Reversing Iron Depletion (under revision)
Gluten Sensitivity In Athletes (under revision)
The Female Athlete Triad (under revision)
Athletes With Type 1 Diabetes (under revision)
Fact Sheets – Promote the CSSD
Board Certified as a Specialist in Sports Dietetics
Athletes in the Arts – Fact Sheets
Larger files take a while to download. For a better experience, right click on the link and choose "Save As..." to download the factsheets.
Authors
Jessica Bachman, PhD, RD; Elizabeth Abbey, PhD, RD; Christie Achenbach RD, CSSD; Carla E. Cox, PhD, RD, CSSD, CDE; Shawn Dolan, PhD, RD, CSSD; Lisa Esposito MS, RD, CSSD, LN; Jade Garneau-Fournier, BS; Sally Hara, MS, RD, CSSD, CDE; Judith Haudum, BS; Emily J. Haynes, RD; Danielle Lafata, RD, CSSD, CPT; Carol Lapin, MS, RD, CSSD, LD; Enette Larson-Meyer, PhD, RD, CSSD; Kelly Pritchett, PhD, RD, CSSD; Justin Robinson, MA, RD, CSSD, CSCS; Kathryn Rogoski, BS; Kristi Spence, MS, RD, CD; Patti Steinmuller MS, RD, CSSD, LN
Editors
Travis Thomas, PhD, RD, CSSD, Kelly Pritchett, PhD, RD; Elizabeth Abbey, PhD, RD; Ellen Coleman, MA, MPH, RD, CSSD; Shawn Dolan, PhD, RD, CSSD; Michele Macedonio MS, RD, CSSD, LD; Nanna Meyer, PhD, RD, CSSD; Patti Steinmuller MS, RD, CSSD, LN
Layout and Graphic Design
Page updated June 11, 2015