30th Annual SCAN Symposium
June 27 – 29th, 2014 • Huron, Ohio
Be a Catalyst for Change: Ignite Your Career & Boost Your Knowledge
Create and Expand Your Practice
Demystify Contracts and Compensation
Explore Media Training, Branding, and How to Promote Yourself
Learn the latest in nutrition research
Request for Speakers Closed.
Be a Catalyst…Submit an RFP to speak at the 30th Annual SCAN Symposium. Integrated topics related to sports nutrition, cardiovascular health, wellness, obesity, weight management, and disordered eating/eating disorders will be featured. Presentations will emphasize career-advancing strategies such as: building your own brand, new and exciting ideas to incorporate into your practice and how to get paid what you are worth. We will have speakers present on current research and real-world experience related to topics having the most impact on our practice areas. Attendees will get to hear controversial topics passionately debated by experts and the SCAN audience will chose the winner of these debates.

Sponsors
Contact Hope Barkoukis, Develeopment Director for more information on sponsorship at Symposium.
Exhibitors
Join us at Symposium & interact with a fantastic group of companies & organizations. Exhibitor opportunities are available for the 30th Annual SCAN Symposium. Details forthcoming.
Poster Sessions
Practitioners, graduate students, and undergraduate students are invited to submit abstracts for the Symposium poster sessions. Posters will be judged and cash prizes awarded.
Location and Area Attractions
Escape to the shores of Lake Erie at the AAA Approved Diamond Rated 2013 Sawmill Creek Resort set on 235 acres of affordable luxury. Guests will enjoy ….
Tom Fazio 18-hole Golf Course

Lakefront Beach, Marina & Water Sports

Indoor / outdoor pool and spa

Variety of recreational activities

Creative cuisine, great views & live music

Sunset cruises
Around Town
Whether you prefer a getaway that includes lazy days at the beach, fishing with friends, and bicycling around an island, or one filled with exciting thrills like waterslides, roller coasters, and entertaining nightlife, Ohio's Lake Erie Shores & Islands is the ideal destination. It offers a coastal retreat with abundant recreation options to satisfy a number of interests.
Not to Mention
Cedar Point voted #1 Amusement Park in the World for 16 Consecutive Years!!!
Tour Ohio Wineries & Lake Erie Islands
Charter & Fly Fishing Opportunities
Travel Information
Drive
Sawmill Creek Resort is located within 500 miles of 2/3 of the population of the US. At the crossroads of America, Sawmill Creek Resort is easily accessible and diagonally crossed by the Ohio Turnpike (Interstate 80/90).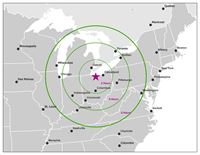 Fly
Attendees are suggested to fly into Cleveland Hopkins International Airport. Discounted transportation will be available from Cleveland Hopkins International Airport. More details forthcoming.
Registration
Registration will open in Fall 2014. Check back for more details.

Student Volunteers
If you are a student local to Ohio and interested in volunteering at the Symposium please complete the SCAN Volunteer Form on our website and select 'Symposium' when indicating your main volunteer interest. A SCAN representative will be in contact with you. Students who are selected to assist during Symposium are required to volunteer 8 hrs of time in exchange for a full conference registration.
Contact the SCAN Office for more information
SCAN Office
6450 Manchester Road
Cleveland, OH 44129
P: (440) 481-3560 /(800) 249-2875
info@scandpg.org