Antioxidants and Phytochemicals: How the Evolving Science is Shaping Our Nutrition Messages
Free On-Demand Webinar for CPEU February 10th to March 10th
In this program, Karen Collins, MS, RDN, CDN will discuss how our messages about plant-focused eating patterns and our response to questions about antioxidants need to evolve in light of today's new research.
Understand the broader role of antioxidant values
Explore future research methods
Develop messages on polyphenols' role in health
Not sure who to Vote for in the Academy Elections?
Candidates from SCAN for the 2014-2015 Academy Elections
Director at Large Jacqueline Berning (CO)
House of Delegates, Speaker-Elect Linda T. Farr (TX)
Nominating Committee Tracy Wilczek (MA)
CDR, RD Christine K Weithman (MA)
Candidates for the 2014-2015 SCAN DPG Elections
Chair-elect Eve Pearson (TX)
Treasurer Denise Li (FL) & Mark Hoesten (NC)
Nominating Committee Georgia Kostas (TX) & Susan Kundrat (WI)
SCAN Delegate to the House of Delegates Jean Storlie (MN)
Open February 1st – 22nd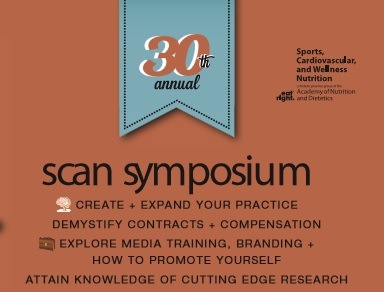 Don't miss out on early bird rates!
Register now for SCAN Symposium
Share & Learn

Scan Discussion Forum
SCAN Discussion Forum is a place to share nutrition information and learn about Sports Nutrition, Cardiovascular Health, Wellness and Weight Management, and Disordered Eating and Eating Disorders.
Join the Discussion Today